The Nutrition Services department is made up of a team of food and nutrition professionals that are dedicated to students' health, well being and their ability to learn. We support learning by promoting healthy habits for lifelong nutrition and fitness practices.

Meals, foods and beverages sold or served at schools meet state and federal requirements which are based on the USDA Dietary Guidelines. We provide students with access to a variety of affordable and appealing foods that meet the health and nutrition needs of students.
CEP is for elementary, middle and academy students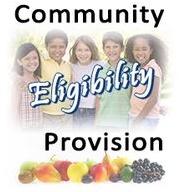 **BEGINNING AUGUST 27, 2020**
Breakfast & Lunch Service for Virtual Learning:
Meal kits will be distributed on Mondays and on Thursdays from 11:00 am-1:00pm at eight school sites:

Bondurant Middle School
Bridgeport Elementary
Collins Lane Elementary
Elkhorn Middle School
Franklin County School (left side door #34 towards the football field)
Hearn Elementary
Peaks Mill Elementary
Westridge Elementary

Parents/guardians may pick up meal kits at any of the eight school sites. They DO NOT have to pick up at their child's school. When picking up, the following information will need to be given at the school:

Student full name, school they attend and POS number (if available) or date of birth

Meal kits can be pre-ordered through the google document on Franklin County Schools website located under "QUICK LINKS" or by clicking here.
Monday pick up must be pre-ordered by the Friday before; Thursday pick up must be pre-ordered by the Wednesday before
Monday meal kits will include a breakfast and a lunch for Monday, Tuesday and Wednesday; Thursday meal kits will include a breakfast and a lunch for Thursday and Friday

Meals will only be distributed for days that school is in session

All meal items will be pre-packaged for easy transport
Money Policy:
All elementary, middle and Academy school students will receive free breakfast and lunch (CEP program)
High school students are not on the CEP Program but may complete a free and reduced lunch application, by visiting franklincountymeals.com, to possibly qualify.
For high school students, meal prices are as follows:
It is recommended that money be deposited into school lunch accounts via Myschoolbucks.com
Cash and checks will be accepted at pick-up sites

Please enclose in an envelope with student full name, school and date of birth
**PLEASE NOTE: PICK-UP WILL NOT BE AVAILABLE ON LABOR DAY, MONDAY, SEPTEMBER 7. YOU MAY PICK-UP ON TUESDAY, SEPTEMBER 8 INSTEAD.